ABOUT THE ARTIST Hello! I'm Kimberley Bates, an abstract-realist painter working from sunny San Diego, California accompanied by my fur baby, Dexter (aka. Sexy Dexy).
Through my artwork, I explore themes of empowerment, self-actualization, mental health, and personal growth.
"My greatest wish is to celebrate the incredible and inspiring strength, resilience, and capacity for growth I see within every person. To encourage positive self-awareness and serve as a reminder to embrace the beauty, complexity and authenticity that lies within."
01
FAVORITE PAINT COLOR:
Rainbow! "Bright, happy, and striking" is my favorite combo. Throw in some black for the ultimate contrast, and I'm smitten
02
SECRET TALENT:
Karaoke
03
OTHER HOBBIES:
Rock Climbing, Costume Design, Tarot Reading
04
PERSONALITY TYPE:
ENFP/TJ, Aquarius, Recovering Perfectionist
05
RANDOM QUIRK:
I frequently break into song to narrate my everyday activities
06
ARTIST CRUSH:
Bo Burnham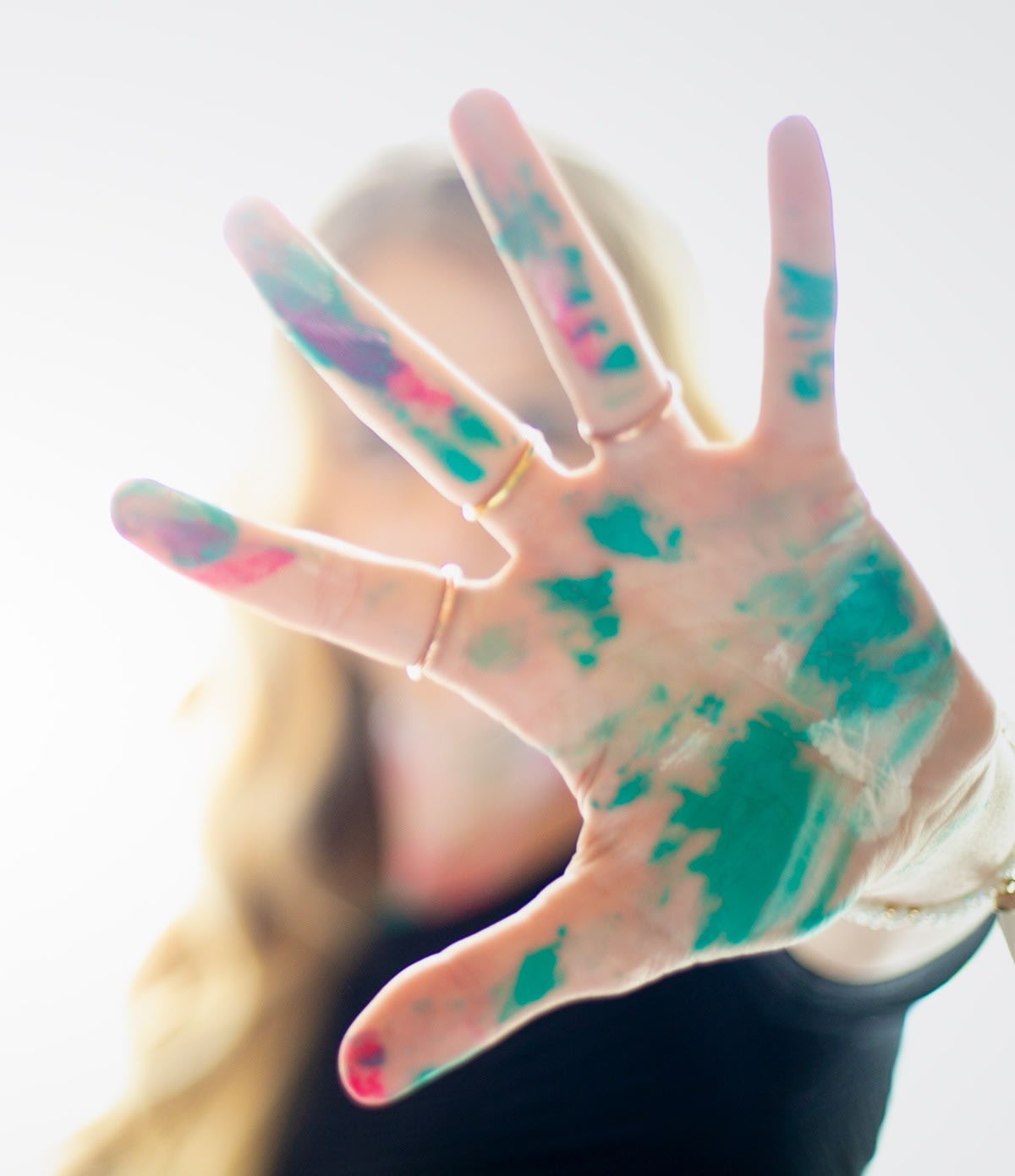 YOU.
Every person I meet has an incredible story to tell. We've all experienced extreme joy and overcome tremendous pain in unique and fascinating ways that I'm inspired to honor through my art. Often, I see facets of beauty and power in others that they don't see in themselves. I love capturing a fresh perspective that allows people to see the light they don't realize they are shining. It's my privilege to provide a healing perspective and reflect my subjects' beauty back to them… transmuting their insecurity, pain, and darkness into power, joy, and light.
Music and lyrics are also a source of great inspiration in my painting process. There is something so magical about translating sound and lyrics onto the canvass. In fact, I see the most vivid visualizations for paintings in my mind's eye when I'm meditating and listening to my favorite positive and empowering, poetic melodies.
As a lifelong enthusiast of psychology, philosophy, ethics, and personal growth, these themes are always incorporated in my work as well. They also influence the music I'm inspired by and tend to show up through composition, color, and symbolism.
I grew up in northern California and have lived all over this beautiful state. I've been drawn to art since I was old enough to hold a pencil, and I declared my intention of becoming an artist at the ripe old age of 5. Sometimes, you just know. Since then, art has permeated just about every area of my life. I took many painting and drawing classes at the local community center and entered all sorts of local art contests. I discovered my love for portraiture in high school and started selling my first commissions at age 15. Coincidentally, I also discovered an affinity for graphic design.
I moved to the central coast and earned my degree in Art and Design with a concentration in graphic communications from Cal Poly, San Luis Obispo. I promptly moved to San Francisco and built a successful career in brand strategy, design and marketing over the past 16+ years.
I've enjoyed working on hundreds of consumer brands and helping start-ups visually communicate their brand messaging and values.
I still provide creative direction and brand consulting for many clients, but I'm so excited to be refocussing more creative energy on my fine art roots. It's been a long time dream to open my own gallery, create healing works for my collectors, and further explore my artistic vision. I'm forever grateful for this journey… every success and setback, every opportunity disguised as an obstacle, all the artists and entrepreneurs who've inspired me, and for everyone in my life who has supported and helped me along the way. I'm inspired by YOU because I couldn't have done it without you.
JOIN THE COLLECTOR'S CLUB
Be the first to hear about new releases, available originals and get member exclusive bonuses